*Just a quick note that all of the mutes discussed in this post are Rittich-style mutes. Per Horn Matters, Eugene Rittich of Toronto, Canada, who was Co-Principal Horn of the Toronto Symphony for many years, is responsible for designing this most popular style of mute, used by professionals and advanced students alike. It is a simple cone shape, with a movable inner tube for tuning purposes.*
We as musicians, especially horn players, are truly blessed, because we have so many wonderful equipment and accessory options from which to choose. When I bought my first real straight mute, back in 2004, I didn't have a lot of options. At the time, I had been using a Stone-Lined mute for years, and it was time to upgrade. I considered getting a Trumcor, but my teacher recommended a straight mute from Ion Balu, so that's what I ordered. It was a Walnut Balu mute that cost $110, which I still have and use to this day. I had to replace the corks on it recently, but it has held up very well over the years. The market for wooden straight mutes has severely inflated over the past decade, so many of the top brands will cost anywhere from $130 to $250.
Today, a Balu mute will run you approximately $200 (US Dollars), so I'd say that the price has increased a little over the years. It has a great reputation, and it is still one of the best all-around mutes that you can buy. The Balu mute is heavy and solid, but due to its robust construction, it produces a warm and full-bodied sound that other wooden mutes tend to lack. When comparing to other brands, I am always very impressed with the quality of construction concerning the Balu mutes. I don't feel like I'm going to break it when I hold it or put it in the bell of my horn.
A great "middle of the road" option, which is reasonably priced and well-made, is the Trumcor straight mute. There are a number of models available by Trumcor, but the most recommended wooden straight mute is the 45T model. The 45T is tuneable, which is what the "T" stands for, and only costs approximately $130 (it's listed for $105 on the Trumcor site). It is also available from multiple sources, such as Woodwind Brasswind, Musician's Friend, and even some local music stores. I know many professionals that use this model mute, and I do recommend this particular one for many of my college and high school students. It's rare that a young student will be able or even willing to pay $200+ for an accessory that they may not use that often, so I've found that this Trumcor mute is a great compromise. It produces a nice sound, not stuffy or too bright, and it also feels very durable. It should be noted that Trumcor mutes are not completely made from wood, but are also made using "a specially formulated resonant fiber material."
Staying in the "affordable" range, is another wooden, Rittich-style mute produced by the Denis Wick company (sorry, no relation to John Wick). The Wick company is located in England, and it is well-known throughout the brass world for producing top-quality mutes, mouthpieces, and accessories. Like the Trumcor mutes, the Wick wooden straight mute is also lined with a special fiber that helps to dampen the sound. The sidewalls are constructed of birchwood, and the bottom panel utilizes marine plywood, which is a type of wood that is able to withstand lots of moisture accumulation. The best price for this particular mute may be found at Hickey's Music, $108.50. Personally, I was only aware of the metal Wick mutes until recently, so I don't have much experience with the wooden mute. I did try it once, and it seems like it would be a fine option for a younger player. It would at least be better than using the metal "silver bullets" by Wick or Jo-Ral. I would still recommend the Trumcor mute over this one, but this seems to be one of the cheaper options on the market.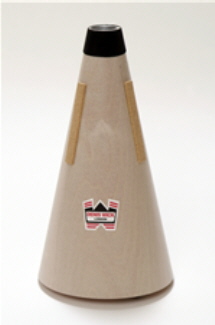 Another "affordable" option is the Moosic Mute, which I believe is only available through Pope Repair or Hickey's Music. I thought that these mutes were made by Jacek Muzyk, the Principal Horn of the Buffalo Philharmonic, but I can't find any information to support this claim. Either way, it has one of the most unique designs, and I have always wanted to try one. It is handmade, and the "design uses two layers of spiral-cut walnut and poplar veneer to create a responsive and resonant sound. It has no plastic or fiberboard and gives a very natural all wood feeling, (Pope Repair)."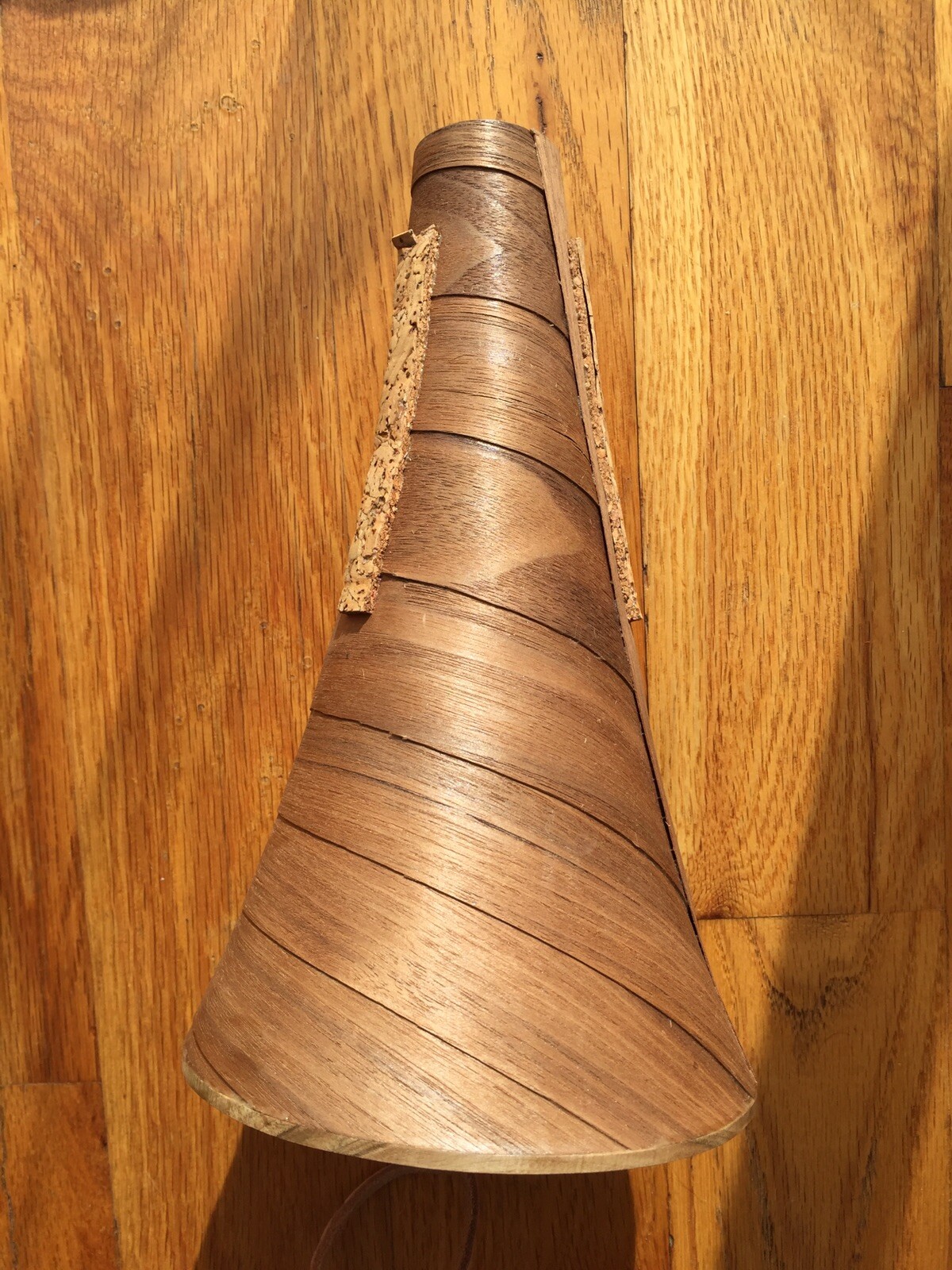 The RGC mutes, which are available through Houghton Horns and produced in Spain, are a very affordable option offered in six different choices. There are three different conical versions: Ash (offers more clarity of sound and articulation), Black Ash (darker sound than the regular ash, but with same sense of clarity), and Solid Cherry (focused and projects very well, lighter than the previous two woods). All three are available for $119, and play well considering the price. Recently, after being able to try these three models at a workshop, I have begun to recommend these more often. The other three options utilize a 12-sided design, which raises the price a little, $125-$179, depending on the wood. Here are the 12-sided choices: Solid Cherry ($125, similar to the Conical version, bright sound, great projection), Cherry and Ash ($149, the Ash is meant to balance with the brightness of the Cherry), African Rosewood and Ash ($179, heavier, with a darker tone). I'm not a huge fan of the Cherry, primarily because it is a little too bright for my taste, but the African Rosewood and Ash is one of my favorite mutes. While being absolutely beautiful to look at, it also produces a very nice sound. I don't personally own one, but after trying it numerous times at different workshops, it's on my shortlist. My only complaint with the RGC mutes, and many of the mutes on this list, is that they are very light in comparison to my Balu mute. I've been using a Balu mute for so long that when I pick up other mutes, I'm always taken aback by the difference in weight. I know that all of the mutes on this list are well-made, but many of them feel flimsy when compared to my trusty Balu.
The last mute before we start looking at the more expensive options is the long straight mute by Don Maslet. It is currently available through Osmun Music and Elemental Brass at approximately $135. Unlike the other mutes in this list that are primarily comprised of some sort of hardwood, the sidewalls are constructed of carbon fiber, with the bottom plate being made of wood. Due to the materials, this mute produces a very bright and brilliant sound, while also being super lightweight and extremely durable. I haven't tested this theory out myself, but I can only assume that this mute would work well for solo work or any type of muted passage that needs to cut through a big ensemble. It could also potentially work well in a brass quintet type setting. I didn't find the brightness of this mute to be as offensive as that of the Cherry RGC mutes, but this could be due to the difference in material, carbon fiber vs wood.
Now, we're starting to creep closer to that $200 threshold; however, we still have two makers that offer very nice mutes. The first is Marcus Bonna. We all know and love the cases, but the company also produces some very nice mutes. MB evidently has a carbon fiber option, but I'm only familiar with the regular wooden Rittich-style mutes. The latter can be found for approximately $175 from many of the major horn retail shops, and it is constructed of fiberboard and wood. MB does offer mutes with different designs on the sidewalls, but these options are also a little more expensive. Since Marcus Bonna utilizes fiberboard, their mutes are a little bit lighter than the Balu mutes, but otherwise are pretty similar in playing characteristics. If I'm already going to spend close to $200 on a mute, I would probably opt for a Balu mute over the MB mute, but at this point, it's really up to personal preference. I prefer the solid, heavier feel and sound of the Balu mute, and I'm sure that other players might prefer the opposite.
Horn-Crafts is a mute-making company based in the Netherlands. These mutes are sold by many of the big music retail companies throughout Europe. In the U.S., they are distributed by Dillon music, Osmun Music, Patterson Hornworks, and Pope Repair. Horn-Crafts currently offers three different models: Sylva (Beechwood), Betula (Beechwood), and Khaya (Mahogany). The Sylva and Betula models are the heavier options, 130 and 140 grams respectively. These two are also the cheaper options that are normally available for approximately $180. These models are very nice mutes, but the Khaya model, which is made of African Mahogany and weighs 125 grams, is my favorite. I normally don't enjoy the lighter mutes, but this mute just feels and sounds better to me. It also costs about $250, which is the primary reason why I don't own one of these models. The Khaya is a fantastic mute, but unless you have an abundance of money to spend, I would stick with the other two models. The Sylva and Betula models are very comparable in sound and feel to the Balu and MB mutes.
The Tom Snyder mutes, which are primarily sold through Pope Repair, are produced in Canada and available in the following options (wood): Koa, Walnut, Cherry, and Ebony. They are priced at $230, but I paid $200 for my Ebony mute back in 2016. I loved the look of the Ebony mute, and I loved the sound of it at the time. I tried all of the mutes that I could find at the 2016 International Horn Symposium in Ithaca, NY, and the Ebony won. It fit pretty well with the horn that I played at the time, which was a Wunderlich Schmidt. After I switched to an EB (Elemental Brass) Custom Yamaha 87, I did everything to make it work, but no matter how hard I tried to fix the issue, I couldn't play in tune with it. I recently sold it, which is a shame, but if I couldn't play it within a section, then the mute wasn't worth keeping. It not only projected well, but technical passages were extremely clean on that mute. This just goes to show that a mute won't work with every instrument, so be sure to try one before you buy it. Even though it didn't work out in the long run, these are still great mutes, and I highly recommend them.
This next one isn't necessarily a new mute, because it is made by Ion Balu, but it is new to the market. It was designed by Dan Vidican, the maker of the wonderful Lukas Horns, and this mute is evidently the "Beast Mode" version of the regular Balu mutes. The Lukas mute seems to only be available through Pope Repair and is priced at $255. The site mentions that the process for making this mute is much more labor intensive, and the following characteristics are listed: "quick response, evenness across the range, and a brighter, crisp sound full of stage presence and projection in the hall." I have not personally tried this mute, but due to my preference for Balu mutes, I can only assume that I would enjoy the Lukas mute. Would I buy one? If I performed regularly in a professional orchestra, I would maybe consider it, but as I stated previously, it's difficult for me to justify spending more than $200 on a mute.
The Cadillac/Rolls Royce of the horn mute world, the Woodstop mute, which is available in Maple ($225), Cherry ($245), and Walnut ($255). These mutes are sold through The Horn Guys, Elemental Brass, and other places, but it's actually cheaper to order the mutes directly from the Woodstop website. The Maple has a "very lively sound with a bit of edginess" and plays with great response. The Cherry is a free-blowing mute with immediate response that "gives the traditional sound with a bit more warmth." The Walnut "gives a very warm sound with no edginess." It is responsive and the playability is supposedly very "similar to that of your open horn." These mutes are played and endorsed by numerous professional musicians throughout the United States. I have never tried one, mainly because it is above my pay grade, but the straight mutes and stop mutes are both world-renowned, so you'll definitely get your money's worth.
Well folks, we made it! I know that there are other mute brands out there, but the ones listed in this post are the most "well-known" horn straight mutes available today. Unfortunately, if you're looking for some profound wisdom concerning the "perfect" straight mute, then you are out of luck. There will always be debate over which one is the "best," just like how we constantly fight over which horn is the best. It all depends on personal preference, which is why you should always try it before you buy it, or you might just get stuck with a $200 mute that you never use.